Specialists of the Heart Institute Visited Germany's leading Cardiac Surgery Center in Homburg
March, 13, 2023
We continue to learn from the best in order to save lives of our patients.
Specialists of the Heart Institute  visited the leading Cardiac Surgery Center of Germany in Homburg, Universitäts Klinikum des Saarlandes under the leadership of Prof. Dr. Hans-Joachim Schäfers.
Oleg Zelenchuk, Maksym Rotar, Serhiy Sudakevych spent a week exchanging experience and knowledge with German colleagues who are leaders in Europe in the most modern cardiosurgical interventions.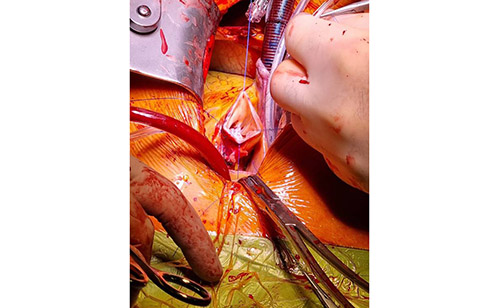 Our specialists participated in operations for aneurysms and dissection of the ascending and thoracic aorta, for thoracoabdominal aneurysms – Yakob operations, total arch replacement, thoracoabdominal aortic replacement, etc.
In Europe, cardiac surgery is rapidly developing towards valve-sparing reconstructive operations. It is nice to realize that in Ukraine this trend is supported with the same quality.
For example, specialists of the Heart Institute under the leadership of Prof. Borys Todurov have the most experience in valve-sparing operations of the aortic valve.
Our colleagues returned home with invaluable experience for saving Ukrainian patients and raising the status of our doctors internationally.
A commemorative photo was taken with the most authoritative cardiac surgeon in Germany, who performs the entire range of cardiac surgical interventions, professor Hans-Joachim Schäfers, to whom we are very grateful for his support of us and our specialists.