First Heart Transplant in Odessa
March, 29, 2023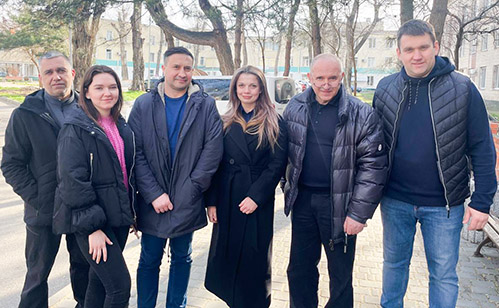 Tonight, a team of doctors from the Heart Institute performed the first heart transplant in the city of Odesa on the basis of the 10th city hospital.
The patient is a young 44-year-old man from the Mykolaiv region, who has been on the transplant waiting list for more than a year. In the summer, the condition worsened and he was fitted with a cardioverter-defibrillator, thanks to which the man was able to wait for a new heart.
The operation was successful, the patient was transferred to intensive care. "Thank you to everyone who stayed awake this night and saved the lives of our patients together with us" – Prof. Borys Todurov said.
We thank the administration and doctors of Odesa Hospital for their cooperation.
Sincere and boundless gratitude to the donor's family for permission to collect organs for transplantation, a low bow to you.
The Heart Institute's team:
Borys Todurov, Maksym Taranov, Serhii Sudakevych, Sofia Chaikovska, Oleksandr Revenko, Shabanov David, Mykola Melnyk, Diana Kovalenko