For the First Time in Ukraine. Proctor's Certificate
May, 11, 2023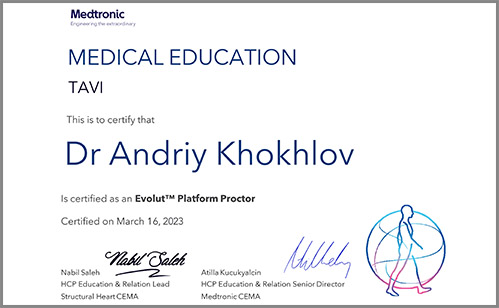 Every day our doctors aim to be the best in order to provide the best level of medical care in Ukraine.
Behind this credo is the daily hard work and dedication of each of the Heart Institute's employees.
And today, we want to share another testament to this.
The Head of the Department of Angiography and Endovascular Surgery Andrii Khokhlov received the European certificate of a teacher (proctor) in transcatheter aortic valve implantation (TAVI) for the implantation of Evolut R Medtronic self-expanding valves for the first time in Ukraine.
We have already written that TAVI is a highly complex endovascular surgical intervention for which just a few specialists are certified in Ukraine. Andrii Khokhlov was the first to be certified to conduct it, and it was at the Heart Institute that the first operations took place.
And now, Dr. Khokhlov also has the right to teach this art to other cardiac surgeons, in the EU as well, but the most important thing is that this will help Ukrainian cardiac surgery reach a new level.
Even the war is not an obstacle to such an important goal – the development of Ukrainian medicine.
The Ukrainian Medical Front is in reliable hands! Thank you, and we are proud of Ukrainian doctors!