Going Home with Heart Transplant Following Mechanical Heart Implantation
June, 17, 2022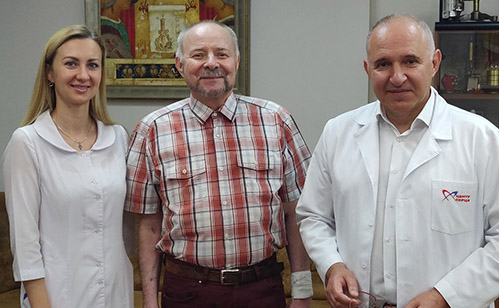 Today is a happy day for Mykolai Medvedev – he is returning home after a heart transplant following the mechanical heart implantation.
Mykolai Medvedev is the first patient in Ukraine to undergo both stages of treatment – 1.5 years ago he had a mechanical heart implanted in the Heart Institute, and three weeks ago a donor heart was transplanted to him.
The path to this happy moment was not easy – with the beginning of the war, the life of our hero hung by a thread – the mechanical heart is powered by a battery that is constantly carried in a bag with him, and periodically needs recharging. Being in the conditions of occupation near Kyiv and in the absence of electric supply, it turned out to be not easy…
The Fate smiled at Mykolai Volodymyrovych – he was able to escape the occupation, moreover, in fact, he received a donor heart on his birthday.
We wish him good health and fulfillment of dreams – and they are interesting and big.
From our side, we are happy that Life Goes On!