Closure of Paravalvular Fistula of Mitral Valve
December, 21, 2020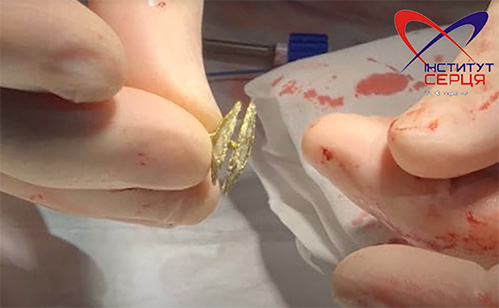 Paravalvular insufficiency is one of the problems of cardiac surgery – it occurs due to the weakness of the surrounding tissues or severe calcification of the fibrous ring of the valve and appears in severe or decompensated heart diseases. The team of the Heart Institute of the Ministry of Health of Ukraine performs interventions to close paravalvular fistulas with an occluder specially developed for this pathology.
Currently, such interventions are possible only with the use of esophageal 3D ECHO.
Recently one more such operation was performed – closing the paravalvular fistula of the mitral valve with apical access by a multidisciplinary team of doctors of the Heart Institute: Head of the Department of Angiography and Endovascular Surgery Andriy Khokhlov, cardiac surgeons – Oleg Zelenchuk, Konstantin Boyko, anesthesiologist Maria Slyubyk, doctors of functional diagnostics Natalia Ponych-Gorobievska, Khrystyna Monastyrska. The patient is feeling well, preparing for leaving the clinic.