Learning from the Best to Save Lives
February, 5, 2023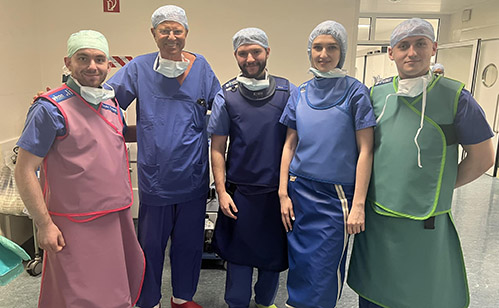 Specialists of the Heart Institute visited the leading Cardiac Surgery Center in Germany – Deutsches Herzzentrum München. Mykhailo Todurov, Lyubov Stetsyuk, Yuriy Gotsulyak, Igor Stetsyuk spent 2 weeks gaining new experience and knowledge from German colleagues who are leaders in Europe in the most modern cardiosurgical interventions.
Here, 500 aortic valves per year are implanted through vessels in the thigh, and 28 of the most expensive cardiac devices in the world – transcatheter mitral valves from Abbott – Tendyne are used. (The price for the valve, according to doctors ~ 100,000 €)
In Europe, the trend of cardiac surgery is rapidly developing towards minimal invasiveness. It is nice to realize that this trend is supported by the same quality in Ukraine.
For example, at the Heart Institute under the leadership of Prof. Borys Todurov, the greatest experience in the implantation of an aortic valve through the femoral artery, these innovations were implemented back in 2016 together with Andrii Khokhlov.
Our colleagues returned home with invaluable experience for saving Ukrainian patients and raising the status of our doctors in the international arena.
A commemorative photo with the most authoritative heart surgeon in Germany, who performs the entire range of cardiac surgery, from newborns to Tendyne implant – Prof. Rudiger Lange, to whom we are very grateful for his support of the Heart Institute's specialists.